The Nova Scotia Court of Appeal is the province's highest court. Through its judgments, the Court of Appeal clarifies and develops the law in Nova Scotia. The Court sits primarily at the Law Courts building in Halifax.
The Role of the Court of Appeal
The Court of Appeal hears appeals in civil, criminal and family matters from the Nova Scotia Supreme Court, and in criminal matters from the Provincial Court and the Youth Justice Court. It also hears appeals of decisions by tribunals, such as the Workers' Compensation Appeal Tribunal, the Nova Scotia Utility and Review Board, and the Nova Scotia Human Rights Commission.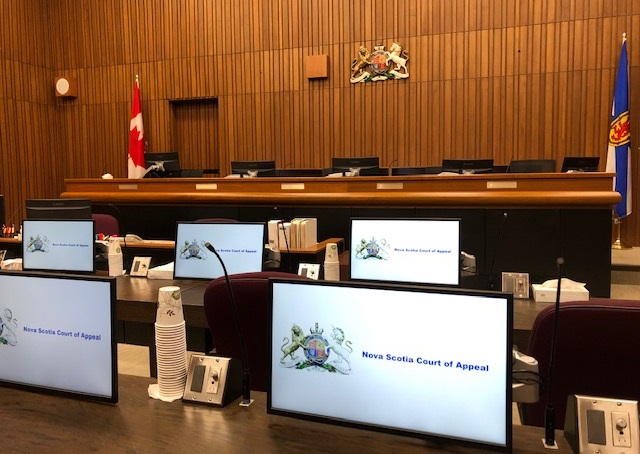 The Court of Appeal does not re-try cases. It reviews the record of the lower court or tribunal for errors of law or other errors that require appellate intervention.
The Court has the authority to dismiss the appeal, thereby confirming the decision of the lower court or tribunal; to allow the appeal and order a new trial or hearing; or to allow the appeal but change the order of the lower court or tribunal. It is generally the court of last resort, except in the very few cases that further appeal to the Supreme Court of Canada.
Addressing Judges on the Court of Appeal
Many judges prefer to be addressed in a gender-neutral fashion. Counsel should consider doing so by using the term "Justice", followed by the jurist's last name. The gender-neutral term "Court" is also acceptable, as in: "I would like to direct the Court's attention to…". This is particularly useful in appeal hearings where a panel of three or five judges may be presiding. Unless otherwise directed, it is also acceptable to address a male judge as "My Lord" and a female judge as "My Lady".
When speaking to a judge outside of the courtroom, the preferred manner of address is "Justice" or "Judge".
Identification of Pronouns and Titles by Court of Appeal Participants
The Nova Scotia Court of Appeal welcomes parties, lawyers and other participants to advise the Court of their pronouns and titles. In doing so, the Court seeks to foster an inclusive environment for appeal proceedings in which all gender identities are recognized and respected.

2022 Annual Report
The Nova Scotia Court of Appeal has prepared an Annual Report with information about appeal proceedings in 2022, as well as activities of the court staff and judges to improve access to justice, modernize court technology, and foster judicial and legal education.
The report is a first for the Court of Appeal in this province, inspired by similar publications for the Supreme Court of Canada and other appellate and trial courts across the country.
In addition to deciding appeals, judges in the Court of Appeal are actively engaged in a wide range of activities, including serving on advisory committees for the Order of Nova Scotia and King's Counsel appointments, various access to justice initiatives, and programs for legal and judicial education throughout Canada.