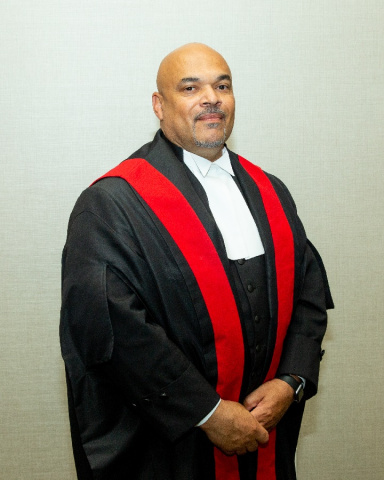 The Hon. Judge Perry F. Borden is the new Chief Judge of the Provincial Court of Nova Scotia and the province's first African Nova Scotian to achieve that position.
Brad Johns, Attorney General and Minister of Justice for Nova Scotia, announced the appointment in a news release earlier today. The appointment is effective Sunday, Aug. 27, 2023.
Among other tasks, the Chief Judge is responsible for scheduling court sittings, assigning judicial duties, hearing cases, and administering the judicial functions of the Provincial Court. The Chief Judge also oversees the Justices of the Peace who preside in Provincial Court and Night Court. 
Chief Judge Borden is originally from north-end Halifax. He graduated from the Schulich School of Law in 2002 and was called to the Bar on Nov. 7, 2003. He received a Queen's Counsel designation in 2020.
He began his legal career as an associate lawyer with McGinty McCleave in Halifax. In 2007, he joined the Nova Scotia Public Prosecution Service and by 2015, he had risen to the level of Senior Crown Attorney, a position he held until his appointment to the Bench.
As a lawyer, Chief Judge Borden spent countless hours giving back to his community and helping improve access to justice and legal services for historically marginalized groups.
He served as a member of the Nova Scotia Barristers' Society Racial Equity Committee, President of the Nova Scotia Crown Attorneys' Association, and he volunteered regularly with the Nova Scotia Courts' Justice Day Camp events for young African Nova Scotians.
On July 9, 2020, he was one of two judges of African Nova Scotian descent appointed to the Provincial and Family Courts of Nova Scotia. He has presided primarily in Halifax ever since.
Chief Judge Borden takes over from The Hon. Pamela S. Williams, the outgoing Chief Judge of the Provincial Court. She served two consecutive five-year terms in the position.