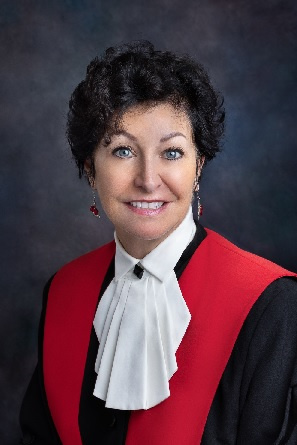 The Hon. Pamela S. Williams, Nova Scotia's first female Chief Judge, has fulfilled her term as Chief Judge of the Provincial and Family Court.
Known for her progressive attitude, collaborative approach, and boundless energy, she used those qualities to advocate for the judges on her Bench and to help usher in much-needed modernization in the Provincial Court, important changes that improved access for Nova Scotians during and after the COVID-19 pandemic. 
"This position requires the three P's — patience, perseverance and persistence," said former Chief Judge Williams. "It's not an easy job but I like to think that I used what little authority the Chief Judge position has to make a positive impact, especially for those most vulnerable individuals coming before the Provincial Court."
Among other tasks, the Chief Judge is responsible for scheduling court sittings, assigning judicial duties, hearing cases, and administering the judicial functions of the Provincial Court. The Chief Judge also oversees the Justices of the Peace who preside in Provincial Court and Night Court. 
"On behalf of the Province of Nova Scotia, I'd like to thank Judge Williams for her contributions to our province's justice system during her ten years as Chief Judge," said Attorney General and Minister of Justice, Brad Johns.
Some of the former Chief Judge's proudest moments have come through her work with the Dartmouth Wellness Court, and the province's Wellness Court Program Steering Committee, which she co-chairs alongside Dr. Robert Strang, the Chief Medical Officer of Nova Scotia.
Wellness Court Programs are specialty or problem-solving courts where a team of professionals helps treat the issues contributing to the individual coming into conflict with the law. These issues may include mental illness, substance use or gambling. Other areas in which specialty courts have been established include domestic violence and Indigenous restorative justice.
"Public institutions, including the courts, need to adapt to the needs of the people they serve," former Chief Judge Williams said. "For too long it has been the other way around. Wellness courts are an example of transformation in the criminal justice system. They should serve as a model for the type of collaboration that is possible with other government and community organizations. I am extremely proud of how far these programs have come and of the people who have worked so hard to get us here."
 Since 2010, former Chief Judge Williams has been the dedicated judge for the Dartmouth Wellness Court. During that time, she facilitated independent evaluations of the mental health and substance use court programs in that location, as well as the related wellness court programs in Amherst, Port Hawkesbury and Kentville.
The work was a natural fit for a judge who spent nearly 20 years representing adults and youth as a staff lawyer with Nova Scotia Legal Aid, and as a legal advocate for individuals living with mental illness who appeared before the Criminal Code Review Board. 
One of only five French-speaking judges on the Provincial Court, former Chief Judge Williams has presided over adult and youth criminal matters and some Family Court matters. Between October 2006 and August 2010, she was the primary judge in the Metro Youth Justice Court. She was appointed the Associate Chief Judge of the Provincial Court in 2011 and Chief Judge of the Provincial and Family Court on Feb. 27, 2013. She was appointed Chief Judge for a second five-year term in August 2018.
In her role as Chief Judge, she has participated in numerous judicial and joint committees, including the Council of Nova Scotia Chiefs and the province's Criminal Justice Transformation Group.
Starting in 2015, former Chief Judge Williams served as Co-Chair on the Nova Scotia Home for Colored Children Restorative Inquiry, part of the provincial government's commitment to respond to the institutional abuse and other failures of care experienced by former residents of the Home. The final report, Journey to Light: A Different Way Forward, was released in 2019.
She chaired the COVID-19 Working Group, a sub-group of the Criminal Justice Transformation Group. Established in June 2020, the working group was tasked with considering the impact of the pandemic on the criminal justice system in Nova Scotia and offering a path forward. The working group was made up of approximately 40 members from various government departments, agencies, and community organizations that looked at issues such as court backlog, virtual proceedings, electronic filing, and digital evidence management.  
She was instrumental in introducing and running virtual bail hearings for individuals in custody during the pandemic, and has helped develop streamlined court procedures, including a new process for securely accepting applications for electronic warrants. 
Nationally, former Chief Judge Williams has served as both a Member and Chair of the Canadian Council of Chief Judges.
Although her term as Chief Judge is now complete, former Chief Judge Williams plans to continue presiding in the Provincial Court for the foreseeable future. Last week, the provincial government announced that The Hon. Perry F. Borden will be the new Chief Judge of the Provincial Court.