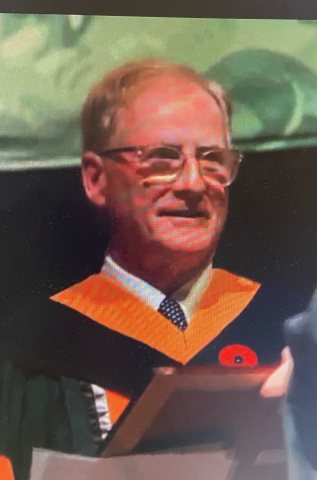 After 16 years on the Bench, The Hon. Lawrence I. O'Neil, Associate Chief Justice of the Family Division has elected supernumerary (part-time) status. 
At the same time, he is also stepping back from his responsibilities helping to administer the Family Division of the Supreme Court.
"Justice O'Neil is a formidable force who has dedicated his judicial career to ensuring an efficient and effective system for resolving family law disputes," said The Hon. Deborah K. Smith, Chief Justice of the Supreme Court of Nova Scotia.
"His impact on the Courts has been immeasurable. Justice O'Neil spearheaded the expansion of the Supreme Court (Family Division) throughout the province, during a global pandemic. That unification of the family courts has made it much easier for Nova Scotians to access the legal services their families need in what can often be a difficult and stressful time. On behalf of all of his colleagues, I want to thank Justice O'Neil for his significant contributions to family law in this province."
Justice Lawrence O'Neil is a graduate of Saint Francis Xavier University and Dalhousie Law School. He also completed a year of graduate studies in law at the University of Alberta. He was admitted to the Nova Scotia bar in 1979 and to the Ontario Law Society in 1992.
He was first appointed a Justice of the Supreme Court in 2007 and Associate Chief Justice of the Supreme Court (Family Division) in 2011. Justice O'Neil has presided primarily in Halifax, as well as Port Hawkesbury and Sydney, and will continue hearing family law cases across the province, as needed, until his full retirement.
During his time on the Bench, Justice O'Neil invested many hours developing judicial education programs focused on family law issues. He recently helped to draft the Canadian Judicial Council's Best Practices Guide on Family Law Case Management.
In addition, he was instrumental in helping launch the Nova Scotia Judiciary's judicial engagement program with African Nova Scotian and Indigenous communities. In 2017, Justice O'Neil arranged for members of the Nova Scotia Judiciary to visit Membertou First Nation to hear from Indigenous leaders about the challenges facing First Nations communities in Cape Breton, particularly the child welfare system in Nova Scotia. The meeting was the first of its kind in this province.
Related to that work, Justice O'Neil was recently awarded an honorary Doctor of Laws from Cape Breton University to recognize his tremendous contribution in judicial outreach, including demonstrating and encouraging the need for judges to learn more about the communities that they serve.
Justice O'Neil's move to supernumerary status creates a vacancy on the Supreme Court (Family Division), bringing the total number of vacancies on that Court to four.
Effective immediately, The Hon. Patrick J. Duncan, Associate Chief Justice of the Supreme Court, will be acting Associate Chief Justice of the Family Division.