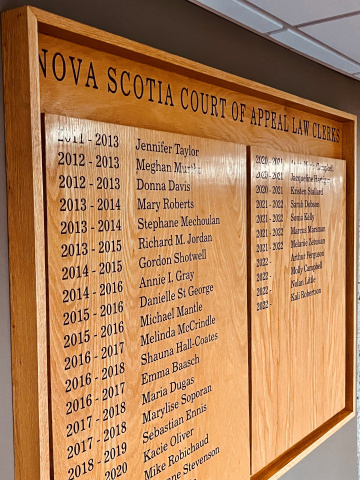 The application process for the 2024-25 Court of Appeal clerkship opportunities is now open. 
Applications will be accepted until 4:30 p.m. AST on Friday, Oct. 20, 2023.  
As part of the application process, candidates must submit:
A cover letter;
A Curriculum Vitae (CV);
An official law school transcript supplied by the institution; 
A writing sample; and
Three letters of reference. If reference letters are submitted by email, the letters must be signed, in PDF format, and submitted by the person providing the reference. Alternatively, hard copies of documents may be mailed or hand-delivered. Please do not staple your documents.
Emailed documents must be in PDF format. If submitting your cover letter and Curriculum Vitae (CV) by email, the subject line should read:
LAST NAME, First Name - Clerking Application (for example: MACDONALD, Catherine - Clerking Application)
Please submit applications to:
Sarah McClare
Judicial Assistant
Nova Scotia Court of Appeal
The Law Courts
1815 Upper Water St.
Halifax, NS B3J 1S7
Sarah.McClare@courts.ns.ca
Receipt of all applications will be acknowledged. Only those selected for an interview will be contacted. Interviews will be held in November and may be conducted by telephone if distance inhibits travel or in other exceptional circumstances. Successful candidates are advised shortly after the interview process is complete.
For more information on the clerkship program, click here.