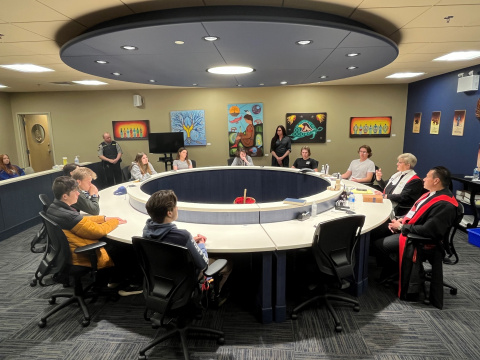 This month marks five years since a new courthouse opened in Wagmatcook First Nation.
On Friday, June 2, 2023, the Nova Scotia Judiciary, lawyers, court staff and others marked the anniversary by inviting students from the neighbouring communities to visit the courthouse and learn more about the many careers involved with the wellness court programs at that location. 
The Provincial Court in Wagmatcook is unique to Nova Scotia and among the few in the country that incorporates Indigenous restorative justice traditions and customs. It includes a Gladue Court, which deals with sentencing and bail matters, and a Healing to Wellness Court for Indigenous individuals who come into conflict with the law.
The courthouse officially opened on June 21, 2018, National Indigenous Peoples Day, marking another important step toward reconciliation with the Indigenous community and improved access to justice for more Nova Scotians. It is located in the Donald Marshall Junior Centre for Reconciliation and Justice. The court's creation is in line with a Marshall Inquiry recommendation calling for more Provincial Court sittings in First Nations communities, as well as the Calls to Action outlined in the Truth and Reconciliation Commission's report.
The Wagmatcook Provincial Court began hearing criminal matters on April 4, 2018. The Supreme Court of Nova Scotia (Family Division) held its first sitting there on June 6, 2018. This is believed to be the first time a superior court in a Canadian province will hold regular sittings in a First Nations community.